You guys.
It's back.
FALL
, that is!
Pumpkin Spice Lattes
(
PSLs as the cool kids call it
),
college football
,
sweaters
,
scarves
,
boots
,
pumpkins
, crunchy leaves and
cinnamon & clove scented candles
!
Who am I kidding? I live in Southern California where it's more like 80 degrees inside of an allergy bubble...but a girl can dream, can't she?
The weather may not be ready for me to bust out my collection hand knits, but inside I'm enjoying the sweet, spicy smells of my fall candle collection, [iced] pumpkin spice lattes, and the year's best in television! I love all of the must-see fall favorites creeping around the blogosphere this time of year, and I must share my own. My list has changed a bit
since last year
, but I'm OK with it. I'll just have to clear some more room on the DVR :) Without further ado...
[second annual] un-official fall lineup
in no particular order
[categories]
drama, psychological thriller, mystery
[why I watch]
I finally got around to seeing what all the fuss was about over Revenge. While I'm
still
behind the rest of America
(trailing behind in season two
), the third season is recording and ready on the DVR and I am
completely hooked
. Murder mysteries are kind of my thing (
I own an embarrassing number of James Patterson novels
), and I love the twists and turns in this show.
Side Note:
It took me a long time to realize that Emily VanCamp is the same actress that played the homely looking girlfriend in
Everwood
. Bonus points for anyone who remembers that show... back when it was on the channel formerly known as 'Warner Brothers'.
[categories] crime drama, tragedy
[why I watch] Can not even tell you how (un)apologetically obsessed we are with this show. As if Charlie Hunnam wasn't reason enough to watch, the plot lines are well-developed and engaging, building upon themselves season after season. I never thought I'd find a series about biker gangs so intriguing, but I love it and will mourn it's absence after the series finale next season.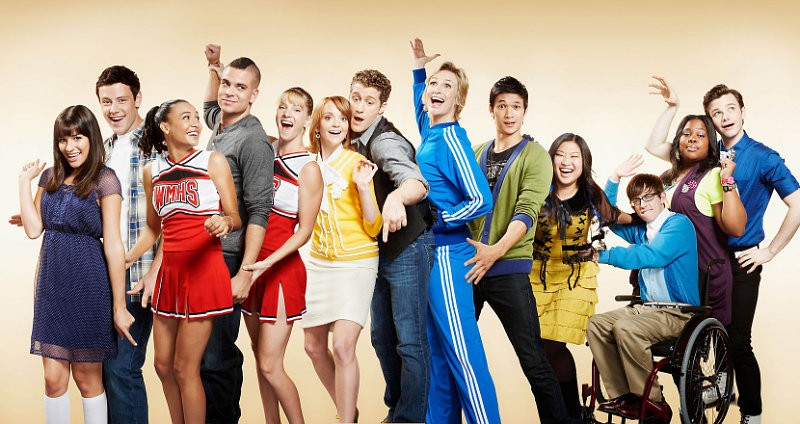 Glee
[categories]
musical, comedy-drama, teen drama
[why I watch]
...Because it's the only one on my list that's not some kind of sick, twisted thriller? Well... kind of. It's bubbly, upbeat, somewhat topical, and continually surprising.
American Horror Story: Coven
[categories] horror, thriller
[why I watch]
The American Horror Story series is in its third season, and if its anything like the first two it won't disappoint! Each season is like a miniseries all its own, meaning that while the actors are the same, their characters change as does the storyline. This season centers on a group of witches in a coven, lead by Jessica Lange--an ironic twist from her role as a God-fearing Nun last season.
[categories]
crime drama
[why I watch]
OK, so
technically
this was a summer hit... but it's fall and still going strong! The premise is interesting and unique, looking inside the lives of two detectives, each on the other side of the border as they work together to find a serial killer. We've really enjoyed this one, and hope they leave it open for a second season.
images: 1 | 2 | 3 | 4 | 5
. . . . . . . . . .
While the DVR is still full of countless other recordings (not at all unlike anything you've just seen!) these are my top picks for this season.
What are your can't-miss fall favorites?